As we kick off 2021, it's pretty apparent that the shift back to "normalcy" that we have all been waiting for isn't as close as we hoped. Most organizations have no immediate plans to bring their employees back into the office and many others have plans to NEVER bring them back.
Right now, 84% of AP teams are working from home or are working to establish a WFH process.
That means that if you haven't put best practices and processes in place to support your accounting team working remotely, now is the time. It's time to find a new rhythm and adjust to supporting your team so that they can work from home, whether that means full time or adopting a hybrid environment. So if you haven't already done so, go ahead and purchase that desk for your home office because remote working is here to stay.
Remote Collaboration is Here to Stay
The pandemic shifted the way organizations are doing business and there are no plans to go back to what was done before. Not only do you and your team love being able to work in sweatpants from the comfort of your home, but Senior Management is behind it as well!

Executives see the value in supporting their remote workforce and improving their processes to help streamline and reduce manual work. There is no telling when we are going back to the office, so it is clear that finding ways to work from home efficiently is more important than ever.
The Impact of Remote Working in AP
As if getting approvals on invoices before COVID wasn't hard enough (I'm looking at you Carl), add in the new restrictions and regulations and your job just got a whole lot harder. No matter how you look at the invoice process today, chances are there are areas that aren't operating as efficiently as they used to.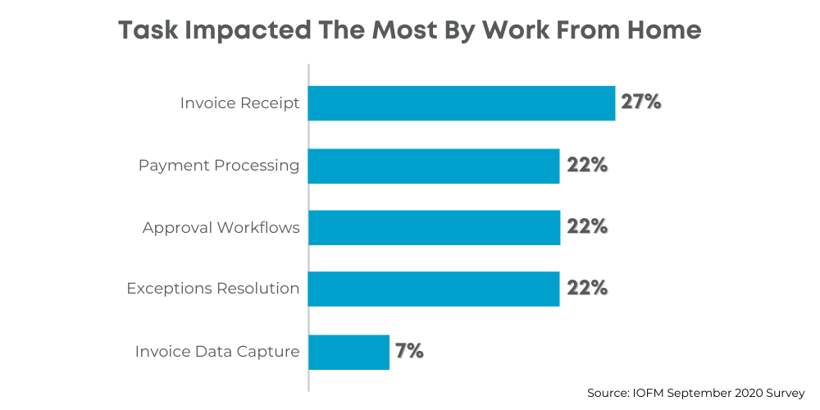 What has worked well in the past for years and years is no longer sustainable. Tasks that were once part of your day to day, such as collecting invoices from the mail, signing checks, and scanning documents, are no longer feasible.
AP Workarounds: The Right Choice or Risky?
Most companies have responded by putting workarounds in place in order to streamline as much as they can to support their remote workforce. However these can often cause more challenges and open up their organization to risk.
Some common workarounds and why they aren't the best solution:
Email Approvals: Email is not secure, it doesn't track actions and approvals taken on invoices, it doesn't provide information for audit purposes, and it doesn't provide any visibility into where things are in the process.

Storing Information in Shared Folders: Information can easily be misplaced or deleted and there is no good way to manage how things are stored.

Communication via Chat: Easy to overlook important information, no visibility into whether or not something was received, not able to prioritize.
While workarounds are short-term solutions, organizations must establish a "New AP Department" that allows their teams to work efficiently and productively.
The New AP Department
Efficiency and productivity are top of mind for many Executives this year. According to an October 2020 IOFM Survey, AP departments have many priorities that they plan to address using automation.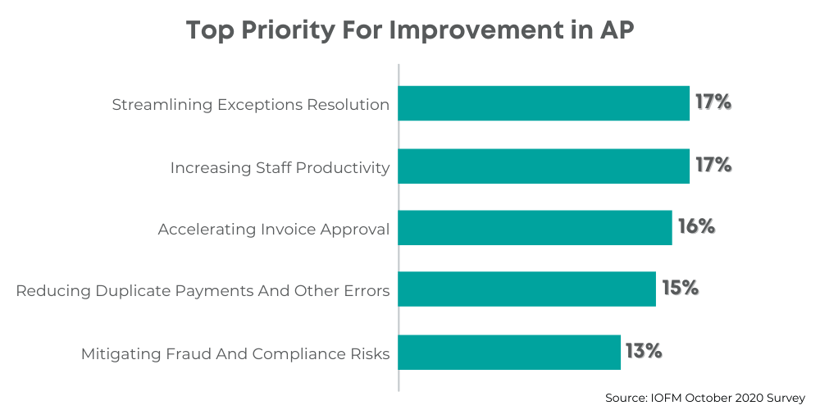 Moving to a flexible remote workforce has increased the need to apply technology and new practices to the AP department.
Gone are the days of walking over to a coworkers desk to ask them about the status of an invoice or for information on a purchase. Gone are the days of reminding your coworker in the break room to get their invoices approved on time (still talking to you Carl!). In order to adapt to these changes and hit their efficiency and productivity goals, companies are investing in cloud technologies like AP Automation to get there.
AP Automation Solutions for Remote Work
So what is an AP Automation solution and how do you find the right one for you?
AP Automation solution is a platform that allows you to automate mundane tasks (like data entry and invoice routing), streamline processes, support a remote workforce, and provide instant visibility into where things are in your organization. While there are many types of AP Automation solutions, it's important that, at a minimum, they have the following:
Secure and Remote Friendly Connection

ERP Integration

Document Storage & Sharing

Automated Tasks, Reminders & Escalations

Instant Visibility into Processing

Seamless User Acceptance and Ease of Use
Having a Secure & Remote Friendly Connection
Your AP Automation solution must be able to support your team remotely and securely. Regardless of where your team is in the world, as long as they have access to the internet and secure login credentials, they should be able to view the information they need to get their work done, make decisions/approvals, and process their daily work.
While things may begin to transition back into the office setting, allowing your team to work remotely and being prepared should we ever face another crisis is critical. By leveraging automation and putting a AP Automation solution in place, you are preparing your team for the future and setting a foundation for company growth.

ERP Integration
Your ERP is critical to getting your work done and managing your company's financials. The best AP Automation solution for you is going to be a system that talks directly with your current ERP. This will eliminate data entry, repetitive tasks, and give you visibility into information that exists in your ERP without you having to go search for it.
(Can you hear me now? Good…)
Document Storage & Sharing
A good AP Automation solution will allow you to store and find information when you need it. While shared folders are better than physical paper documents, it still doesn't easily serve up information or enforce a process. Find a AP Automation solution that allows you to store all documentation, dynamically bring together information when you need it, and put a process in place for the lifecycle of each document. Reducing the amount of time spent looking for documents, asking others for information, and having instant access to the information when you need it are only a few of the benefits.
Automated Tasks, Reminders, & Escalations
You and your team have enough to do and worry about in order to get the books closed each month, constantly reminding others about invoice approvals and deadlines shouldn't be on your list as well. Your AP Automation solution can automatically send out reminders and escalations to your team for you, so you no longer have to nag everyone else to get YOUR work done.
Instant Visibility into Processing
"What's the status of this invoice?" A common phrase used in most AP departments. By implementing a AP Automation, your team will have instant visibility into where things are in the process. You will no longer have to search in multiple systems, email, and shared folders to find the answers. Next time your vendor calls about the status of an invoice, you'll have their answer in seconds with a first call resolution!
Ease of Use
Changing how you are getting work done and what you are doing today can be scary. As humans, we naturally want to do what we know and choose to avoid change. Because of this, you want to find an AP Automation solution that enhances your teams jobs and makes their lives easier. Having a solution that is intuitive and easy to use is key. This is important not only for training your current team, but also for when your company scales, has turnover, and you onboard new employees.
So where do you go from here? How do you start finding the best solution for you?
It all begins with putting together a business case for AP Automation because at the end of the day, it either makes sense for a company to automate or it doesn't. Understanding your current process, where there are areas for improvement, and where there are gaps is critical in establishing whether or not there will be a return on investment.
Sounds like a lot? Don't worry, we've got you covered! You can find a free downloadable workbook that helps guide you through that process.
Download our workbook: Building a Business Case For AP Automation
Still not sure where to start?
No problem! Talk to one of our experts for a free AP Automation Audit where they will walk you through the process and work with you to create an ROI report specific to you and your company.

Sources: