Has your organization ever pulled the trigger too fast on a software purchase? It turns out that the product isn't all you thought it would be, and your team is left trying to make the best of a bad situation, knowing that there's no going back on the big investment that was already made.
If this scenario sounds familiar, maybe your company has tried an out-of-the-box Document Management or Enterprise Automation platform. One-size-fits-all enterprise software doesn't always meet expectations, and it can leave you wishing that you had additional features or more flexibility in your configurations.
This is the first of many reasons why it's a safer bet to engage with an automation partner rather than opting for an automation product you'll have to figure out on your own.
Here are some other things an automation partnership can help you do:
1. Prepare your team for the automation solution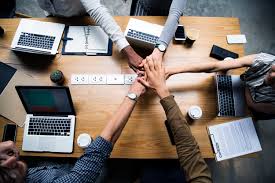 When you're dealing with a team of automation experts, you're getting a lot more than just software. They're going to be able to guide you through the process, just as they have for many organizations before yours. For example, here at DocuPhase, we can help you focus on steps you can take to prepare your organization for automation. That can include tasks like finding champions for change within your organization, going paperless, and learning how to identify your greatest opportunity for automation.
2. Determine the best place to start your digital transformation
Where do you think your organization should begin its digital transformation? An automation partner can help you determine the best place to begin growing an integrated solution. Whether it's accounting, sales, human resources, or your legal department, we can help you determine where to begin your automation journey.
3. Provide system integrations with your existing programs
If you want to integrate an out-of-the-box automation platform with the software you already use, the learning curve can be steep. While your internal IT team can most likely manage the task, it may not be the best use of their time, especially when they have higher-priority tasks to complete and there are outsourcing options. DocuPhase's team of experts can seamlessly integrate our platform with your existing software. Why is system integration a big deal? It's a huge timesaver. Not only does it eliminate double and triple data entry, but it also helps to eliminate data entry errors.
If you're wondering the best way to choose an automation partner, check out CIO's article, Questions to Ask Before Choosing an Automation Partner, for guidance on what to consider before engaging with a partner, what to expect in terms of technical requirements, how to deal with acquisitions, and more.
Think you're ready to choose an automation partner and kick off your digital transformation? Here at DocuPhase, we know that change management can be a challenge, and we want to help you guarantee success in your process improvement projects. Download our guide today – Overcoming the Top 7 Process Improvement Risks – to learn how to deal with the top process improvement challenges.
Get weekly industry news straight to your inbox by subscribing to our blog. It's simple – just enter your email below.