As active members of the Microsoft GPUG community, the DocuPhase team is getting amped up for the community's biggest event of the year, Summit 2018.
What is Dynamics Summit?
First of all, it's the largest annual gathering of Dynamics users.
Summit is a great learning experience for all users, partners, and ISVs. It's an opportunity for everyone to get together in one location and learn from each other. If you attend, you can expect to return to your company with valuable information to share with your team.
In our opinion, everyone should be attending Summit.
Why? To share knowledge and experiences.
If you find yourself running into specific challenges with your Dynamics software, you're not alone. Summit is a great place for organizations to come share their concerns and issues, and to help each other out.
This year, Summit takes place on October 15-18 in sunny Phoenix, AZ.
As we said, Summit is the largest conference of the year for the Dynamics Communities. That mean that they go all out. We can't wait to see what the event planners have in store for us this year. The countdown has begun, and we're less than a month away!
Here are the 5 things you need to know before you head to Phoenix for Summit 2018:
Avoid long check-in lines by avoiding peak hours.
Check-in begins on Saturday, October 13 at 4pm. As you can imagine, tons of people flood to registration as soon as it opens. That's why we suggest avoiding check-in for the first hour or so.

Since registration is also open 7am-7pm on Sunday and 7am-8pm on Monday, don't be overly concerned about being first in line. We've found that early mornings and late evenings are the best times to go, while other people are eating breakfast or dinner.
You can see the full Summit 2018 agenda here.
Attend as many breakout sessions and networking events as you can.
While Summit is a great way to make new relationships and to take a break from the day-to-day routine at the office, the greatest benefits can be gained from taking advantage of everything there is to learn.
As we've said, Summit is a place where users, partners, and ISVs all gather together to learn and network. When you're there, you'll be surrounded by experts in every field. Even better, they're all excited and ready to support you. Prepare before you leave your organization by reviewing the schedule and asking yourself these questions to help prioritize your time during the event:
What issues are we currently facing?
What areas can we improve?
What challenges do we keep running into?
Is our current process the best it can be?
Once you've answered those questions, you should be able to determine what sessions are the best for you and your team to attend.
Figure out what you want to learn about and what questions you have on those topics. Not only can you get your questions answered by experts at Summit, but you can also hear tips and best practices from others who have been in a similar situation.
Here's an example of a session you may want to attend while at Summit:
Building a Business Case for AP Automation, on Wednesday, October 17, at 10AM: This is a workshop, not a sales pitch! Leave this workshop with a business case you can present to your executive team. Does AP automation make sense for your accounting team? Get real evidence of your company's potential ROI. This is the only tool you'll need to present a solid business case for AP automation. With an automation solution, you and your team can finally have the free time to take the vacation you deserve.
If you're interested in attending the Building a Business Case session, you can get more session details here. We'd love to see you there!
Step outside of your comfort zone.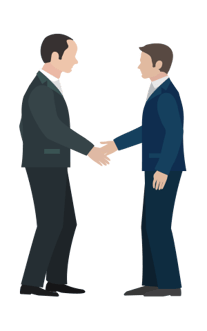 Does it feel unnatural for you to attend networking events with strangers, and mingle with people you've just met? If so, you're not alone! But in order to get the most out of your Summit 2018 experience, you've got to get out of your comfort zone.
Set goals for yourself, like these:
Introduce yourself to one new person per hour
At each meal, sit at a table where you don't know anyone
Ask the questions you want to ask in breakout sessions
Attend one networking event per evening
Whatever your goals may be, the point is to make sure you're getting out there and sharing your own experiences with others. Trust us – everyone else feels the same way you do!
Bring business cards everywhere you go.
If you want to form long-term relationships with your peers and experts in your field, make sure you're equipped with a thick stack of business cards.
Bring them everywhere you go while you're at Summit.
You never know who you could meet or where you could meet them. It could happen at a bar, in a breakout session, or even riding in an elevator.
Being prepared with your information is important.
It's also important to make sure to get a card from anyone you have a conversation with. Since you'll be meeting hundreds of different people throughout the week, it will be challenging to remember each one.
Here's a tip that may help you remember who's who: Grab one of his or her cards, and write something on the back of it to remind you who that person is (i.e. tall lady with short brown hair, talked about GPUG chapter meeting in Orlando).
Then, after the event, follow up and stay in touch! This will continue your relationship with everyone you meet, so you'll have people you can call on when needed.
Enjoy your free time in Phoenix.
If you have any free time to see the city, check out our recommendations below:
Restaurants
Pomo Pizzeria – 3 locations in Scottsdale and Phoenix. We can't even look at their website without drooling.
Rusconi's American Kitchen – Great American food with nightly happy hours.
Attractions
Desert Botanical Garden – If you need to break away from the Summit crowd, take some time to soak in mother nature at this breathtaking garden.
Bar Crawl Main St. in Scottsdale – Looking for night life, food, and drinks? Hop on a party bike pub crawl, a pedal bar, or a food tour in Scottsdale.
Desert Jeep Tour – See the sights from an off-road Jeep! Need we say more?
All of those are great places to visit, whether you're looking for something laid back or for all-night fun. For more ideas, check out tripadvisor.com.
We hope to see you at Summit! While you're there, stop by Booth 545 to meet the DocuPhase team.