The depression has officially kicked in as I'm coming down from an adrenaline high and my mind is flooded with excitement around the future of DocuPhase.
Attending the Future of Education Technology Conference (FETC) in Orlando was an all-time career and personal achievement. It was an incredible experience that I spent mostly hanging out at a booth full of hyperactive people in green shirts. I spent much of this time talking with teachers, administrators, and vendors which only fueled my passion for what we should call the present!
In the present, solutions are needed yesterday; we no longer have the luxury of dreaming of the future. The education market needs cutting-edge technology implemented at a rapid pace and that is what the people in the green shirts were discussing. Underneath those t-shirts were the amazing staff of DocuPhase. I got to join them at the conference for a couple of days and experience their comradery, playfulness, and passion for an amazing solution.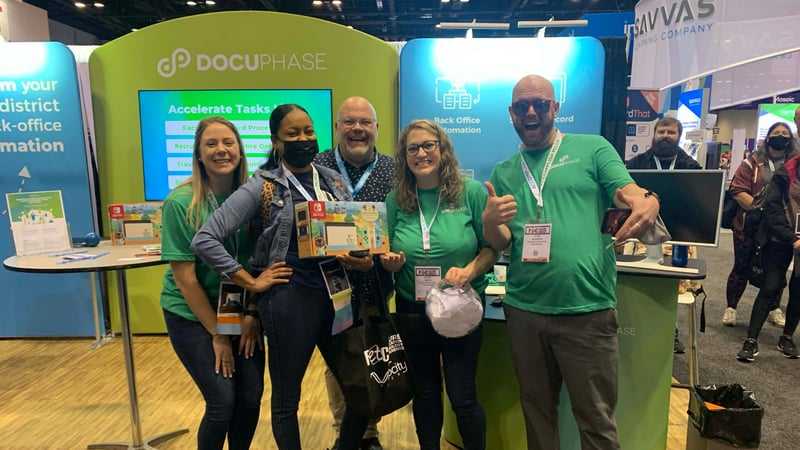 Now for those of you who didn't make it to the event or those that I didn't have the pleasure of speaking to, you may be wondering who I am and what my relationship to DocuPhase is. My name is Justin Lanting and although I currently work as the Director of Professional Development for the Washington Association of School Business Officials (WASBO), I was formerly the Director of Finance and Business Services for Olympia School District.
I'll just be honest. When I first arrived at Olympia School District we needed help badly. Our processes were decades behind corporate America and it was clearly impacting our ability to provide parents, teachers, and students with the level of resources, support, and consistency they deserved. It was only when the literal floodwaters rose and destroyed countless paper documents at our filing site that we realized we needed to modernize.
You can read more about our story and experience with DocuPhase, but the larger point is that over the time I spent working hand in hand with the DocuPhase team, I was won over by their enthusiasm, responsiveness, and the ingenuity of their approach to automation technology. It didn't matter if it was travel authorization, new-hire onboarding, time card processing, or vendor deposits, whenever we needed to expand into a new department or adjust a workflow to conform to new compliances, the DocuPhase team was ready to spring into action!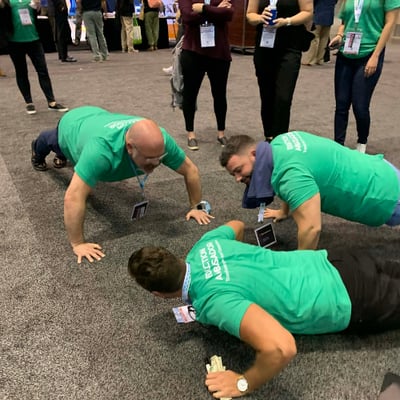 So when a couple of the green team members (they were fit and buff) challenged m
e to 20 pushups as a result of the prize reel, I knew I had to practice what I was speaking so passionately about. I needed to perform on-demand just like the software we were proudly discussing. So, I met that challenge with action! Now you should know that I go to the gym maybe twice a year, and will get winded walking up a flight of stairs. Despite that, I dropped to the expo floor along with the other three green-shirted men and got to work.
Surprisingly, meeting the expectation was the easy part! Feeling the pain in my shoulders and arms the next day however was a fitting reminder that without a challenge, new solutions (and muscles) can't be developed. Fittingly, the majority of my time spent talking to conference attendees could be summarized in one statement: "Our challenges are unique."
Each administrator or teacher we spoke with had specific needs and were laser-focused on meeting the requirements to solve an urgent problem. The most common frustration they voiced is that many software tools can only provide a single focused solution to the range of issues presented.
But when we talked about the ability to collect data, process it with a dynamic workflow, and ultimately archive it for retention, the discussion moved from the urgent needs to wishful thinking… dreaming about big projects and seeing the potential in their school district's future. This is exactly what the education market needs. Software solutions that meet multiple requirements and provide stability and scalability to a demanding and ever-changing arena.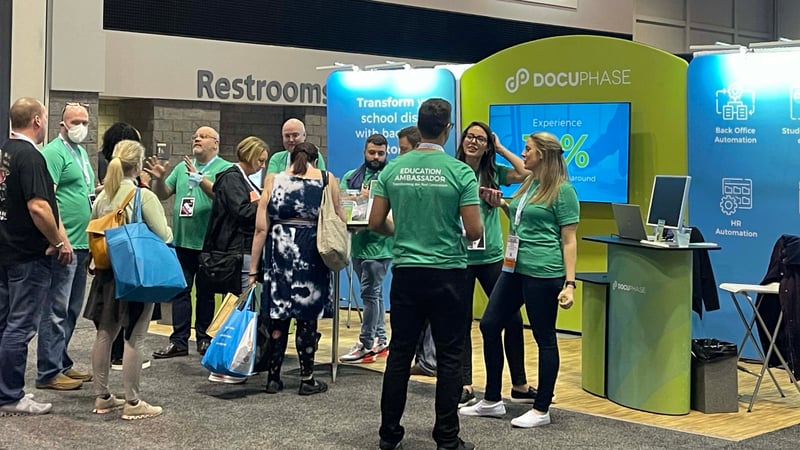 The DocuPhase team has proven time and again that they can rise to the challenge and offer scalable solutions for districts of all sizes and structures. Their highly configurable suite of integrated tools can offer everything from intelligent data capture to electronic web forms that automatically rout to administrators, as well as a Document Management system, Accounting Automation, and more.
A 3-legged stool needs all three legs to be stable. Think of a student information system as one leg, the accounting & HR system as another leg. DocuPhase is the 3rd leg. They get to stabilize the stool by supporting the flow of information throughout your district.
It is time for school administration to finally join the digital age with the goal of not just solving for today's problems, but keeping a keen eye on the needs of the future. If you have any desire to learn more about automation technology and what it has to offer the education industry, I strongly encourage you to connect with the DocuPhase team and see what they are all about.