Listen & Evaluate
Our collaborative approach begins by listening to your needs as we develop a defined plan of how to reach your goals, together.
Working Together. We will work directly with your executives, project sponsors, users and other stakeholders to define the common vision, business objectives, and the deliverables used to measure success.
Develop an Action Plan. DocuPhase follows standard Project Management principles to develop a clear and actionable road map of initiatives and next steps that are required to manage each phase of the implementation life cycle. We track progress through weekly status reports that identify tasks completed, milestones achieved, and upcoming efforts. We will also provide Risk and Issue logs that identify any potential roadblocks to the overall project success and addresses responsibilities and expectations for resolution.
Collaborate & Design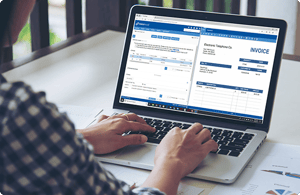 Defining and building your precise implementation plan is the key to a successful, long term solution.
Define Your Processes. The first step to understanding how to improve your business is learning how it works today. By mapping your core processes and gaining consensus on their usage and dependencies, we can begin to formulate a vision for the future state of your organization.
Collect Data and Expertise. The expertise of your workforce often overrides defined procedures and determines how work is best distributed, staged, and executed. It is this hidden information that can be overlooked, causing projects to fall short of reaching their full potential. But the success of any technology deployment is dependent on how much information is revealed as being critical to a process. It is just as important to clearly identify the content and systems used to support a process as it is to understand the level of knowledge required to successfully execute each task. Our methodology uncovers this information and builds it into your processes, ensuring that everyone in the organization has the know-how needed to do their job quickly and effectively.
Change Management. Through close collaboration with your management teams we can identify an approach that will best suit the skills and aptitude of your workforce to promote the highest possible user adoption rates.
Implement & Integrate
At this point, the action plan is put into place as we begin implementing the solution and connecting your core systems.
Effective Technology Applications. Our approach to technology is to provide your team with the right level of assistance so that accountability is not lost, but supported. By combining your vision and our focused discovery of needs, we will put together a custom selection of DocuPhase cores that will work to accelerate, automate, and ensure that your strategic objectives are met.
Discover Sources of Information. One of the core initiatives of any technology implementation involves finding where data exists and in what format, so it can be transformed into useful information. A typical worker will access multiple systems and files across the network in order to accomplish even the most simple of tasks. We simplify this by centralizing all of your information in our platform; we are then able to access and deliver it to the right users at the right time. This is the single most important step in connecting your workforce to the information in your organization.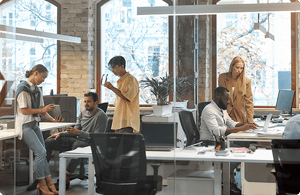 Integration with Existing Systems. We will work closely with your business and IT staff to develop an integration plan that allows for automated communication between systems, whether you are working with standard software or a custom built application. We design custom integrations and use creative solutions to create more efficiencies in any process. This provides consistent and error-free data across the organization and eliminates redundant tasks.
Design a Prototype. By combining your vision with the results of our analysis, we can now build the prototype for a solution that will drive the future state of your organization. This step is critical in creating relationships between the information and data you depend on, the current and proposed procedures to perform work, and the individual contributors who execute the processes. Data driven events will be used to trigger workflows and prompt your users to perform specific tasks proactively; we will work to fully automate all areas of the process where possible to maximize the quality of results, while minimizing the possibility for error inherent to human input.
Control & Validate
The work isn't complete until we have rigorously tested the technology and trained your workforce!
Live Testing. An organization can only benefit from the advantages a system like DocuPhase provides if the workforce it is designed to support actually uses it. An efficient worker will bypass any system if it hinders, rather than supports, their efforts. This leads to poor adoption, loss of confidence, and ultimately abandonment. By developing real world scenarios with your team as guides, we can test the prototype and gather feedback that in turn helps refine how the system works for the end user. It is this collaboration that not only drives adoption, but also ownership.
Training & Mentoring. Everyone learns in different ways, so we customize our training approach based on the technical competency and acceptance of your workforce. We want your team to feel as excited about using their new system as we did building it. One of the ways the DocuPhase team helps control success in these types of projects is to openly address some of the typical fears your team may experience when faced with a changing environment and how it impacts their jobs. By listening to different points of view, we can plan to mitigate factors which may inhibit adoption. We often take a one-on-one approach with workers, but also help develop and train champions to assist in training others. The end user is king and simplifying their workday is our shared goal!
Measure & Transform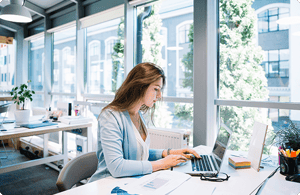 Utilize business intelligence and our partnership to gain continuous process improvement!
Solution Evaluation. As part of the implementation, our team will work with management to understand the baseline of how a process and its outcomes are measured. This approach gives valuable insight into which critical elements of the process to focus on and optimize, and provides a litmus for measuring improvement post-implementation.
Usable Business Intelligence (BI). Providing the ability to view in real-time how effective your organization is at processing information is key to revealing how to improve it and a fundamental deliverable in every project. Our team will show you how to access and manipulate the information coming out of your implemented solution and teach you the necessary skills for developing your own dashboards. This delivers an unmatched capability for continuous process improvement.
A True Partnership. Each client is unique in their needs and the level of service they require to be successful. Some ask us to configure their systems whenever a change is needed no matter how small, while others want complete independence and self-sufficiency. Our model is to keep you on a path that makes the most sense for your organization and train accordingly. This is how we build strong, long-lasting relationships and establish trust!